Return to Acrylic Painting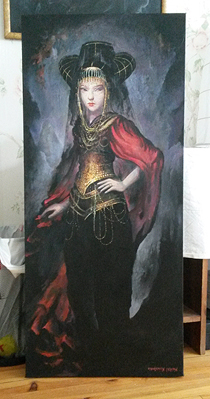 Lately I've attempted to return to classical painting in my spare time. It has been a trying task, as I feel I've lost a good chunk of what I learned years ago when I did no digital drawing, and used to only draw and paint with classical media. This was maybe 10 years ago, so it has been a while.

I joined a class and took some lessons to get back into the vibe, and in the process managed to create a bunch of paintings. The process, as it now dawned upon me, is a different beast from digital drawing alltogether; there is no undo-macro (my hand sometimes involutarily twitched as if trying to undo when I did a foolish stroke and wished to erase it), no easy way to overpaint, no splashing around colors on a different layer and see how it works.

While painting at the courses, I would sometimes get overwhelmed by anxiety as the process is such a slow one compared to digital drawing. This made me realize that patience is a highly-rated virtue among artists - nothing good comes from rushing. I feel these two methods do contribute to eachother as far as skill and mindset is concerned.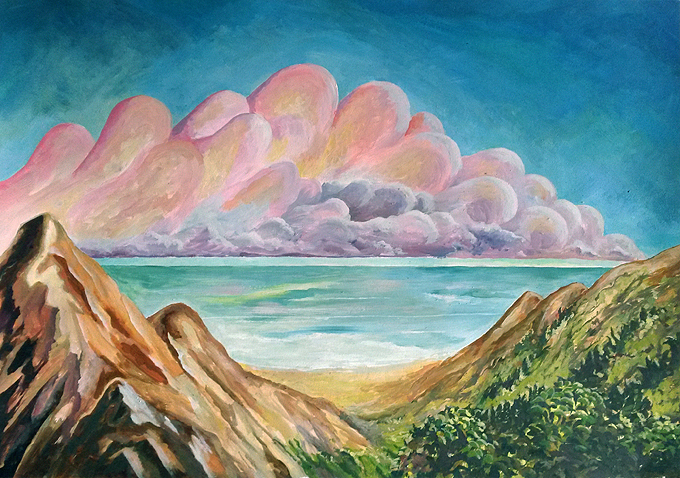 This was my first painting in the class; wholly without reference, just from the top of my head, a vista from Fungivale. I tried to create a soothing, lonely valley, with some marshmallow clouds slowly moving in the horizon. Perhaps the work could have benefitted from some sort of live figure somewhere there. There is a lot of confusion here where the light is actually coming from, but I didn't want to dwell too much on this at any rate.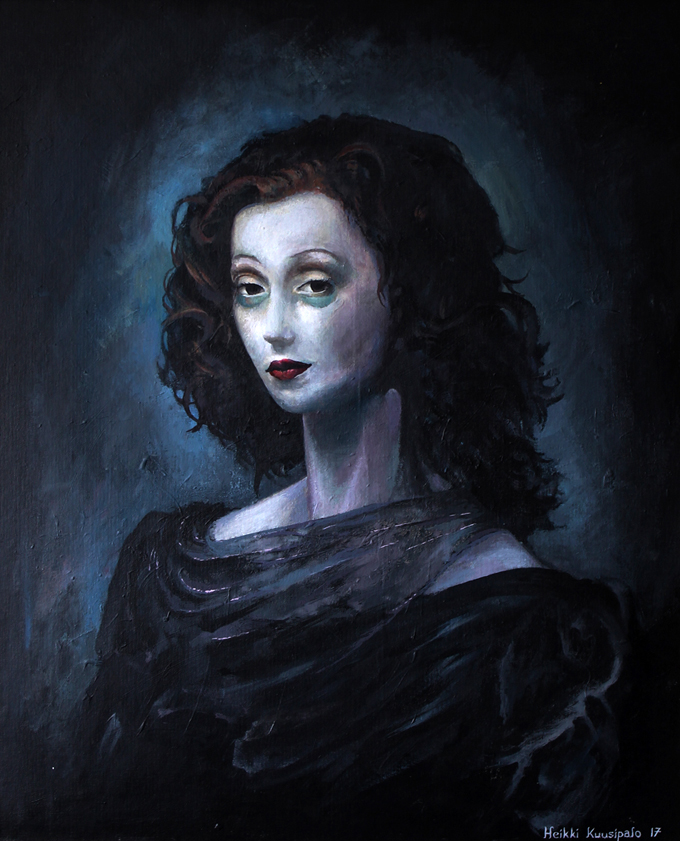 50cm x 60cm / cardboard canvas


I used some reference here, but mostly winged her looks when it came to detailing. The posture and attire are loosely from refs, but she came out very improvised in the end. I wanted to depict a proud and noble lady from some lost venetian royalty. I am not 100% pleased with the outcome, and there were many details I would have altered, but my classmates and teacher forbid me from overpainting any of it so I left it there.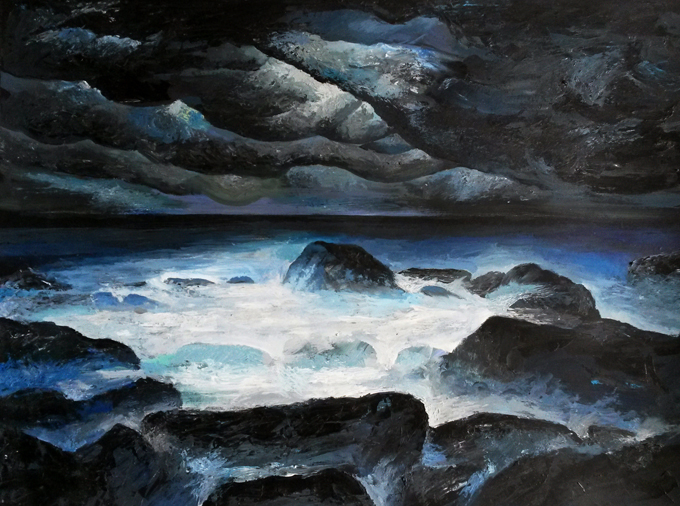 50cm x 65cm / slim black cardboard

This painting got started from an exercise to a black canvas. At first it looked totally different, but then I had the idea to add substance with a palette knife, so I overpainted everything with it, and in the end the result looks rather nice, I think. It conveys the exact feeling I was looking for, an impressionistic take on a restless phantom sea, unrelenting and somehow self-luminescent.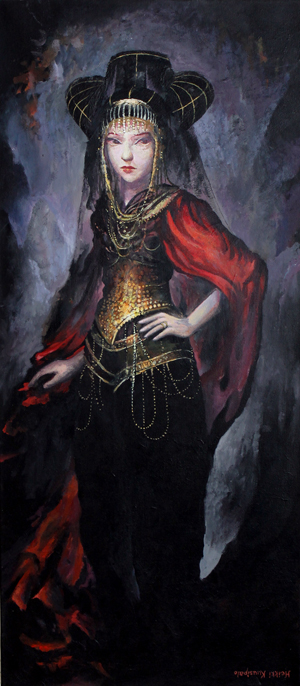 90cm x 40cm / canvas




Click on the image to enlarge



I used a reference I'd made before, though as usual the piece came out looking rather different. I had had this idea for years but never quite managed to bring myself to pick up the paints and do it.

Here I wanted to bring to canvas the young heiress to some lost exotic empire, and I do quite like how she came out to be: a somewhat cruel and pampered beauty, donned in her traditional attire, commanding attention and subservience.

I had some trouble with the facial area especially, though rendering the rest of her was not a simple task either. She had at least four different faces, but I redid them every time, not content with her visage. At last, on the same day as when the exhibition started I managed to find the correct expression I was looking for. The breast-area also had me tearing my hair, as I had no exact vision in mind for it.

There is a slightly amusing story to the upside-down signature: when I had hung this piece into the exhibition, I saw that my classmates were craning their necks trying to read the signature - in effect bowing to the royal princess in front of them! My plan did work for a lot of the guests as well, though I'm not sure how many "got" it but at least I got a few cheap laughs with it.




We held a small exhibition for a few weeks in our local library for the paintings made in our course. If you wish to purchase any of the paintings seen here, contact me at skye.sken@gmail.com. I ship worldwide and accept PayPal.

I had a lot of fun on the course, and already I miss the excellent people I met there. I hope to meet all of you next semester!

If you wish to see what else was made in the art classes, check out this blog.



---